Elegy: The loss of a Father 4-27-08
January 27, 2011
In the large room she reaches for his hand;
Scared, trembling alone in the dark she weeps.
The tears stream uncontrollably down her cheeks;
Until she can no longer stand.

Her mind begins to control her eager to break out,
Not sure what to do, she wants to scream.
He was such a great man, why did they have to take him?
"Why did that man pull the trigger?" she shouts.

When she glanced upon her father at the hospital, survival was unclear.
He always wiped her tears and chased away her fears,
He did not deserve to die that way.
She would go to him with her problems, he was always so sincere.

She should have sensed it, should have known, or stood in the driveway.
She knows it was his time to go but refuses to believe,
Because life without him just doesn't seem right.
She wakes in the morning and misses his hugs everyday.

He's not here all because that man went looking for a gun fight.
She hopes they hang him or shoot him so he feels her pain.
He had a family, did that man think of that as he pulled the trigger that night?
Her father taught her to play poker,
But this was one game she could not out bid.
Wasn't one shot enough?
Why wouldn't that man stop, was he that big of a smoker?

No longer can her father take long rides,
Nor can he sing a simple lullaby.
That night the thunder shook,
And the ground rumbled, with the heavens collide.

He never got to hear his infant son's tender cry,
Or hold him all throughout the night.
In the night his daughter looks for the star up in the sky,
And knows her father's love burns bright.

He put up a good fight, he kicked and he swung.
At times it might appear easier through another's eyes,
Just ask her mother when April blows by.

She cries not because he is dead,
For living without him is killing her inside.
She knows not, what is planned up ahead.
Soon she will face reality and no longer hide.

A wall for her superman stands in D.C.,
Who knew his kryptonite was the size of a pea.
Come May her father's name will appear on it,
And she will glance upon it in envy.

For now his picture appears in her tiny golden locket,
When she cannot wear it, it will preside in her pocket.
Her mother will hold onto his memory for many years to face.
As the days tug on she is lost deeper every day.
Weary from the loneliness she longs for his warm embrace.

As the long restless days tug on,
His daughter clings to the baby he never knew.
She looks back on those days,
Knowing it was his destiny to protect.
Till a man with a gun, shot all our wishes askew.

So the family continues to wait,
For the day, to watch that man receive God's fate.
Her father lives on in her heart,
Every tear she cries is for him,
And the life that was doomed from the start.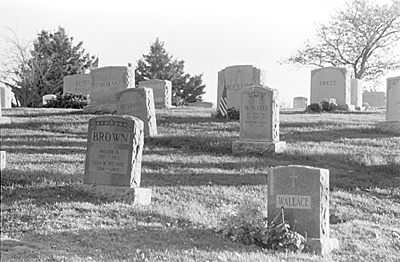 © Jenna H., Marblehead, MA