Forgotten Dreams
October 22, 2016
-after Monica Sun
When the sun was
but a mirage, and
everyone seemed to steal
slivers of light from my
piece of the universe,
a boy waded into the
oceans of my mind.
He told me
I was once a dreamer,
tiny galaxies swirling
in the irises of my eyes.
He said,
"When you were four,
you wished your eyes were stars,
so they would radiate light
even in the darkest hours
of the universe."
He said,
"When you were five,
you wished your lips were
the fiery halo of a nebula, so that
even cyclops would turn
blind at the sight of your smile."
He said,
"When you were six,
you wished your voice was the majesty
of God's watercolors at sunrise,
so that even goddesses would
marvel at its sound."
He said,
"When you were seven,
you wished your skin was the
ivory hue of the moon,
so that even glaciers would melt
in its glow."
He said,
"When you were eight,
you wished your heart would blossom into the
golden petals of dying suns, so that even demons
would drown in its warmth."
He said,
"When you were nine,
you wished for a cosmic love as
bright and terrifying as the universe itself,
so that your family would
always be happy."
He said,
"Do not question your worth,
sweet child. For all your dreams
have come true."
His eyes glistered like tiny galaxies as
he turned my frown into a smile and
disappeared into the past.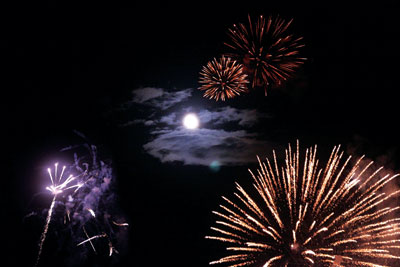 © Meena K., Groton, MA