Boiling Frog
October 29, 2014
when you tell a girl a boy bullies her because he has a crush on her,
you teach her that boys show their love through degrading words.
and she'll believe you because you're a professional.
when you tell a girl she shouldn't be in a psychiatric ward because of her call list,
you're telling her that her problems aren't real because of the friends and family she has.
she'll believe you
and the next time she feels this way,
she'll try even harder to skip the hospital trip and bury herself six feet under.
when you tell a girl she overreacted while she's lying in a hospital bed after that boy told her to kill herself for the 147th time, she'll believe you because you have a college degree.
And when the boy she goes to senior prom with doesn't stop when she says to
she won't tell anyone because he took her out to dinner beforehand,
and he was just showing her how much he loves her, right?
When the senior in college tells her he loves her after he hits her,
she believes him.
she's only a freshman, besides he can't lie about loving her.
when the man she has been dating for three years proposes to her
after breaking her wrist,
she says yes.
when the police get called to their house because their neighbors heard screams,
she says no.
when he finally gets arrested after breaking her ribs,
she feels lost without him.
when she finally finds someone to settle down with,
everytime he reaches in to kiss her she flinches.
everytime he goes to hug her he has to ask because she doesn't feel safe around men.
because when you throw a frog into boiling water, it will jump out.
but if you put a frog in cool water and slowly raise the temperature,
it will stay there until it dies.
Teaching young girls that boys will make fun of them if they "like" them is setting them up for years of pain and self deprecation.
Teach girls to look forward to loves open arms, instead of how to cower in fear of it's fists.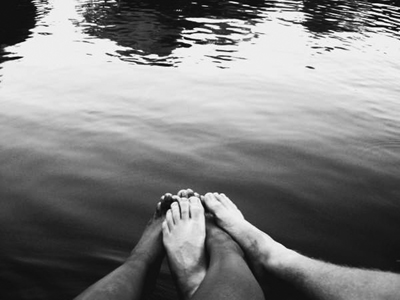 © Michelle W., Ada, MI