Stars
February 21, 2013
What if one day
The stars came falling down

Blankets of light
Shining for you.
Sparkling and twinkling
Under bare feet,
In the heat of summer.

A pool of light.

Stars lost of their flight
Coming down and falling fast
Bright wishes
Sure to last.

And what if these stars
Were nothing but bad

An enemy of
Bombs
Ever so sad.
Landing down on the ground
Keeping humanity far from sound.
Lighting up the world
A fiery blaze
Leaving a blanket
Of foggy haze.

Snow will fall
As leaves die in the dirt.

Boots will march
Under the feet of soldiers,
Strong and weary.

And the world will slowly
Crumble down.
Leaving no sign
Of the human race.

What if the stars
Came falling down
Leaving their home
To light the way

For spirits of dead
Long destroyed
To find the path
Towards heavens gates

Pushing enemies down
the stairway to hell
Not looking back at the world we left

Of dirt and smoke
And the dull glow
Of stars who never let go.

Looking down,
From his place in the clouds

There will be
Nothing left to see.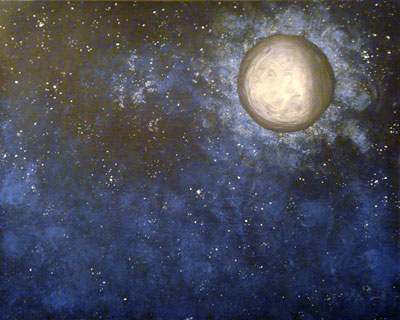 © Allison H., Vancouver, WA