Kinetic Kandy
February 7, 2013
Jolly Rancher, I'm jolly
to grasp it, pinch the yellow ends;
pinch, pinch, pinch the plastic
and pull the ends apart.
Purple oddity inside,
carried by precious momentum,
sticks to the plastic wrapper.
Stick, spin, stick for a second.
Candy protrudes from
unwrapped wrapper, resting
on plastic, perfect to pop
into my mouth.
I pinch the ends of
the purple Jolly Rancher.
Finger and thumb become sticky. Still,
I pick it up and press
it to my pink tongue.
Sweet; I savor the flavor
Of a jelly grape Jolly Rancher.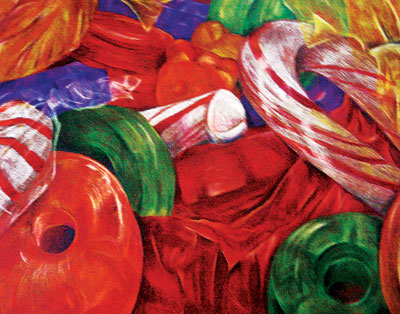 © Amy Z., Edmond, OK