Grandmother Told Me
March 18, 2012
There are stories in the ashes,
There are stories in the flames,
In every nook and cranny
There are lessons to be gained.
Your parents didn't tell you,
Nor do they teach these things in school,
But to withhold this information,
I think,
Is rather cruel.

You'll find
Home isn't where the heart is
(despite what they may say)
You should spread your heart around,
You should give and take away.
If you give your heart
You loose it,
But what's lost will soon be found,
And who knows what stories may be told
By a heart that's traveled 'round!

You'll find yourself a comforting
Rhythm in the seas
And a lyrical melody
Flowing from the bees,
But it all is only adding to
The symphony of the trees.
Every instrument in nature's orchestra
Shares an intricate piece.
Listen ever close,
Let the music never cease.

Finally
I'm telling you,
Should you fall
Don't stand up fast.
Savor the moment,
Make the standing last,
Because somewhere in recovery
You might make a discovery
About your own abilities.
You might push past a world of frivolities
And boundaries set by a society
Focused on becoming your deity.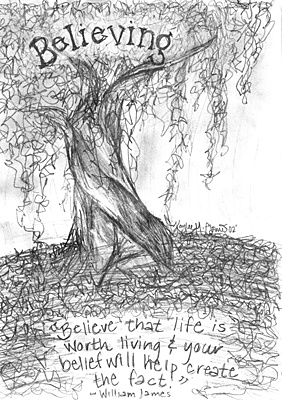 © Kaylee E., Coraopolis, PA