Atlantic
May 27, 2010
White foam at its edges
it makes the children
run to their
weary parents,
frightened eyes
reaching out,
arms grasp—
protection.

It goes past the
dog whose
gentle paws
make carvings
in its aftermath,
collar's bell
tinkling with
each leap.

Thrown from
buckets the color of the sun-
setting, it sweeps
back among the
rocks and snails
who lay,
by their mother's hand
in its trust,
forever in assistance.

Secrets past
down with hope in
droplets position themselves
within.
Secrets from iran
france
spain
peru
norway
ukraine.

Atlantic: South-west.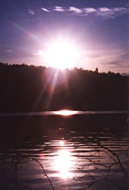 © Laurie T., Hopkinton, MA