Solitude Slope
March 20, 2014
I read the poem
And it read me
The paradox was ever perplexing.

Each line came out of my mouth,
Silent, still each syllable soaked
my past in its grip, like dew in the trees.
When others were in bliss then free
I was in darkness, there: wishful me.

The book it was my own companion;
In whispered thrills and rusty canyons
And with it, indivisible, remiss of abandon
I sought what all could not have saw
In words unheard to most, a call.

The call I sought came in winter's grasp
In frost stung lungs and froze shut clasps.
As I reached, 'neath stars, to kiss my flask,
That night time chill swept through my bones,
When I learned of the one word, "alone."

The cold crept soft aloft in my soul
And blew straight through, and took its sweet toll.
I still knew not its will nor its goal,
But innocence left like quills from their fountains
As I stood lone staring, still thrilled by this mountain.

I sat at that place
While it's face, there perplexed me
And proved what I knew was exceptionally
Nothing the sort which any had known
That we each, one and all, are alone.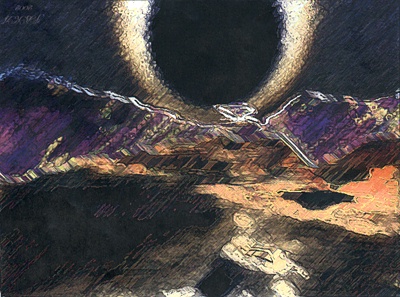 © Jason B., Colorado Springs, CO