Meet me in the forest.
March 25, 2010
The wind will shake the branches,
Tell stories through the trees.
The leaves will hum a tune,
A simple melody.

So in the night,
As the stars lay out their maps,
I'll sit and listen,
To this majesty.
In quiet hopes that you too,
Will be listening with me.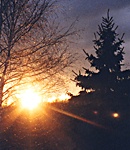 © Christy S., Germantown, NY