Fissures of The Soul
March 12, 2010
If writing helps the soul .then by all means, let me write. Love is a sorry thing, it is. It pulls you down so far you have no chance of ever escaping its bindings. I want to cry, I want to scream, to yell, to curse the day I ever fell in love, in love with you. This is pain I cannot bear, to be parted yet so close to you. It is unfair that we fell to jealousy and lesser feelings. Is love not the greatest of them all? I wish for peace, In my mind and in my heart, For healing to come and sooth my tattered soul. I dream of the days we were happy…..a sad bed of roses to hide the brambles below. When did we fall through? How do I hurt so badly for you who has never been mine alone? I share you, as do the others, content with a piece of you, yet all longing for the whole. Who will win? An ignorant question to ask. You will. You always win. There is no end to your story. Just an endless cycle of willing girls, losing themselves to your poisonous charm. No. To fall for you is not Love, It is suicide. Suicide of the heart and of the mind. I say this out of love. Out of Insanity, out of hope, and despair. Of longing and futileness I whisper these words. I Love You…..I believe the heart can die, and like all other things, is reborn again, stronger, wiser, willing and ready to love more than ever. And so a Heart breaks, and it heals, a testament to the resilience of love and its eternal presence within our Hearts.
For which I will always love you. For though I break, I will return, Stronger, Better, Wiser.
To love you once more.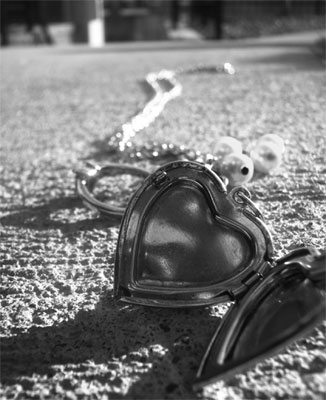 © Francesca Y., Robbinsdale, MN