Educator of the Year
March 22, 2019
We met early September of 2018. The morning brought a sour, nervous stomach and an outfit mottled with diluted droplets of coffee. My angry hair sought vengeance after struggling through the heat of a flat iron. It was the makings of a disheveled, moody teenager—an antagonist with an obese backpack strapped to her body. It was the first hour of the first day of my last year at Arrowhead High School.
To begin, know that getting students' attention before the sun rises isn't easy. It is like trying to get a fat-bellied tortoise's attention; the teacher stands meters away waving a piece of fresh kale. They are stuffed with stimuli, packed with caffeine, conversations, and first-day jitters. These tortoises want to sleep, rest, and digest. The last thing on their minds is writing creatively.
No matter, Elizabeth Jorgensen of Arrowhead High School managed to inspire me, the disheveled, moody teenager. At that time, I didn't know what was going to happen over the course of the semester in Creative Writing.
I entered the classroom looking for an English credit, yet I left craving more. Writing was the kale and I was an emaciated tortoise–determined, trained, and excited. Since then, I have began an Arrowhead Independent Study titled Writing for Authentic Purposes. Ms. Jorgensen took her time to create the class, mold it to my schedule, and develop a plan for another semester of writing. Secondly, Ms. Jorgensen introduced me to the Arrowhead Literary Magazine. Now, I am one of its editors. Overall, she is passionate, supportive and helps me achieve the goals I set for myself.
Ms. Jorgensen devotes her time to language arts. She is a published journalist, yet her dedication and passion does not stop there. She writes a blog for Marquette University and she's presented for the National Council of Teachers of English. Currently, she is working on a novel of her own. It is due in October from Meyer & Meyer Sport. As her student, I can also speak on behalf of her utter devotion to her work. Time and time again, she uses her enthusiasm to inspire students—to inspire me.
Ms. Jorgensen is supportive. She provides straightforward feedback and encourages ideas. For example, Ms. Jorgensen told students to pursue ideas they would have otherwise left alone. "Just because an idea is peculiar or foreign does not mean it's unworthy of a story," she said.
On many occasions, I think back to Ms. Jorgensen's first hour Creative Writing class. It is where she supported each student's stories and pushed students towards purely creative writing. As a result, Ms. Jorgensen single handedly tore down the rules and regulations of bland and distasteful writing. She gave students opportunities to create artwork that went beyond the laws of systematic, scientific articles and mathematical equations. Ms. Jorgensen showed each student the capabilities of his or her own unique writing styles. She gently guided us to our own individual voices.
Know that getting students' attention before the sun rises isn't easy. It's like trying to get a fat-bellied tortoise's attention. But Elizabeth Jorgensen managed to do that—and so much more.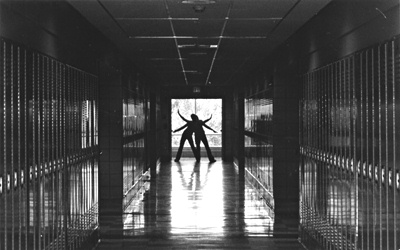 © Sheera G., Marblehead, MA