Surrender
July 23, 2011
I walk with a stiff back; my arms limping slightly and my eyes blurry and unfocused. My hair is disheveled; so is my mind. I raise my arm to the level of my eyes and sigh. Another inch of skin tanned and darkened. The unheard and futile attempts of my mother screeching and chirruping on and on about the effectiveness of lemon peel on oily skin thunders into the back of my head; my mind is filled with roars of shame and disgust.
A bead of saline sweat trickles down from a random strand of my hair and onto my forehead.
I wipe it away. But what I can't wipe away is the usual feeling of unsettlement and discomfort that seems that have dwelled into my mind.
I'm tired of running. I'm tired of trying to overtake and having to prove my self again. I'm tired of spitting blood out of my mouth after every fall; tired of having to clean the wounds that have burned themselves raw into my flesh or I'd rather, my mind.
You'll never really like me.
I'm not like them. I don't have the perfectly straight hair or the glossy lips or the perfect complexion. But most of all, I don't feel disconcerted by the sweat that clings on to your face after every run; I don't feel mad at you when you lose a game.
But then again; it's me.
A girl who likes running to leave behind the truth that hallows her personality like the lichen that clings on to the trees.
A girl who doesn't bother to put on any make-up in the morning because she knows that the world cannot be bought by a mere mascara laden glance.
A girl who wears ripped jeans and converse instead of mini skirts and tank tops because she doesn't want to start a relationship on the basis of physical appeal.
A girl who's day becomes brighter when you so much as glance in her direction.
A girl who tries so hard but is helpless in the vicious spell of your love.

I break into a jog and let out the routine puffs of breath as I make my way for the changing rooms. There you are, leaning onto the railing, surrounded by a bunch of those pretty girls. All of them are beside themselves; circling you like a group of ardent worshippers while you stand in their midst; nodding and checking your watch occasionally. I glance up at your angelic face and our eyes meet.
You smile.
My heart skips a beat as I make a dash for the double doors leading towards the changing rooms.
My face is red; blood is surging through my veins; adrenaline bellowing fiery sparks into my body.
My lips break into a wide smile on their own accord.
There; you've just made my August worth living.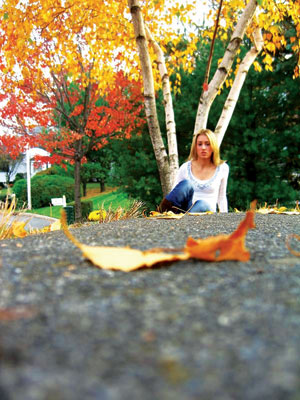 © Stephanie F., Garnerville, NY