Not So "Blind Side"
December 12, 2010
The Raven's NFL offensive tackle, Michael Oher, made quite an impact on his teammates during the football season. More importantly, he made an impact on his friends, family, and movie viewers throughout the nation. The movie, The Blind Side directed by John Lee Hancock, is a heartwarming documentary about a talented, young man and his struggles to find himself. His rough childhood being separated away from his parents and siblings affected him as he got older. Quinton Aaron (who played Michael Oher in the film) beautifully portrayed the true story of Oher in his high school and college career as a loving, hard-working football player.

This story is the perfect mixture of sadness, happiness, love, and struggle. Oher starts out as a confused boy without any direction, let alone a home. During one of his lonely, late-night laundry runs, Mrs. Leigh Anne Tuohy (Sandra Bullock) finds Oher walking about in the streets. Her charitable conscience lends Oher a helping hand and lets him stay with her and her family. After a while, Mrs. Tuohy and Mr. Tuohy (Tim McGraw) start to get attached to Michael's personality and his protective instincts. His talent for football also is a highlight for Oher. He is a key player for his high school team, being one of the best offensive tacklers due to his determination and hefty size. His raw talent for the sport spreads throughout the nation and he soon becomes bombarded with scholarships and offers from colleges to play the sport he loves. This dream-come-true wouldn't have been possible without the help of this kind couple, and soon-to-be adoptive parents, the Tuohys. Michael becomes who he is today because of them and they helped him throughout his high school days when he really needed it.

If anyone is looking for an incredible, well-made movie, The Blind Side is a perfect choice. The movie is not like any other that tries so hard and forces the viewer to like it; it is genuine. Witnessing the love and charitable deeds done throughout this movie is so moving and inspirational to viewers. The actions in the movie are so ideal and euphoric. Many people don't actually go the extra mile to do things for others in real life like the Tuohy family had done for Oher. That is what makes this movie so comforting—there are a few out there who have this kind of heart. If this movie is on your blind side, check it out because it is a definite must-see film.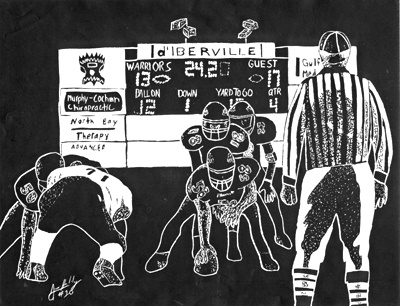 © Jason H., D'Iberville, MS