Sonnet
October 28, 2021
Running stars and faint-sounding clarinets
I'm sinking down nightstairs into midnight breath
Rain pours falls crying in black silver jets
Night-walking blurs cords between life and death.
Blue are the frog throbbing love-insect trees
Red streetlight-flowers wring and knead the rain
Summer sighs serenades beneath my knees
The lake water's lovely shock, cool and pain.
Coal-black are my thoughts that blend shades of green
Thoughts turn water-angels reflected brown
The wide world is wet in its rainy sheen
Upon water, lopsided tree branches frown
Close eyes, wait for something in me to wake
I'm stirring the rain in the midnight lake.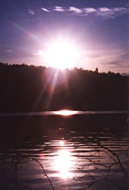 © Laurie T., Hopkinton, MA