Confessions
June 3, 2013
There is no Understanding to be obtained.
TheSumoftheParts.
The parts comprised of:
The Soft Pink Tupperware containers
The Slant of a cushion guiding to your side
The Powdered Snow against your cheek
The Poison inside your Laugh
The Tug of the Corners of Synchronized Lips.

We are choreographed Dancers
Callouses growing against our heels
No longer feeling the brutal SLAM against the
Burning gravel.
We come again.
Sashayers of the Forbidden
The Taste of blood against my tongue:
Of ToxinsandTouches, PullsandPushes, RhythmsofReaching
Going
And
Gone.

We grow weak only a short way from the Fall.
The foaming pillows at the bottom
A rabid dog's mouth salivating for the Kill.

I have Dreamed.
That dark, forbidden Act.
I have conjured
Images, allowed them to Seep inside the cracks of my subconscious
Infest, a foreign species, all aspects.
And so I Dream those hazardous Dreams
And Wait for someone to witness that Horrid Happy
As it drenches my features.
And Someone will smell the Smiles venturing against
Myeyesmylipsmystep
Discover me.

I have stolen with no Hands
Violated without a Touch
Sinned with no Spark, no Rush, no Pleasure.
I have Dreamed and Danced
Alone.
I am Denied my own Demise
My own wishful Fall.

Hunger ravages through
Nibbles away at my soul.
NohopeNoescapeNoacceptance
Of this dark, solitary Fantasy.
It is just My fingers grazing My skin
My hands smoothing down My lips
My hope resting in My heart.

Not Yours.
Never to be Yours.

So I will Watch and find respite
In this Perilous Pain.
KnowledgeandEmotions
TerrorandDesire
Becoming acquainted,
ShakingHands, BeingFriends.

And I wish, yet
I dare not to Hope.
Hope is evil.
Hope introduces herself.
ShakingHands, BecomingFriends.
Feels like Light.
Turn it over. Look in the Darkness.
Light is only the skin.
Prick it. Look at the Darkness
SeepingThrough, CryingOut.

Hope will never be Mine.
Watch
Wish
And Wait.

For the Nothing.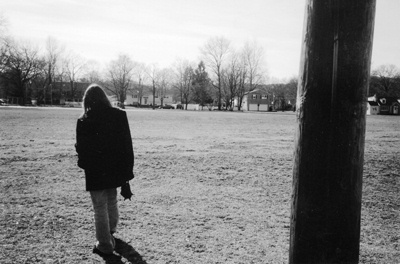 © Rosalie P., Pompton Plains, NJ