Syrinx and the Paper Hearts
MAG
January 14, 2017
My father never taught me origami,
but before I could blink into the depths
of womanhood,
a wave of Gods crashed ashore onto the sands
of my lonely island.
One by one, the suitors kneel.
A traffic line of men waiting for a stoplight that never turns green.
My father taught me how to flirt with the eyes –
I am Cassandra with a shotgun, Ophelia with a legion of arrows.
Masked by the perfume of cherry blossoms
and cheap giggles.
A single touch sends a siren of wails.
The hands learn a language of roughness –
how to crack open a heart and crumple it
into paper,
folding it into cranes and kites so that something looked pretty.
The word goodbye is the only home I know.
I've never tasted a drug, but I experience
the side effects
when the ballads of weeping men
and shattered legacies becomes an addiction.
Heartbreak is the only friend I've ever had.
The strongest of men swim through land and sea
to reach the turquoise sky of my island.
Watch as I teach them how to sink,
how to drown yourself into a rewritten destiny
of glass tears
stored in mason jars, pulsing hearts of blood
and marrow
crushed into bits of paper, sorrow.
And I, watching from afar, always drift away
like the silent tide being swallowed
by the receding sea.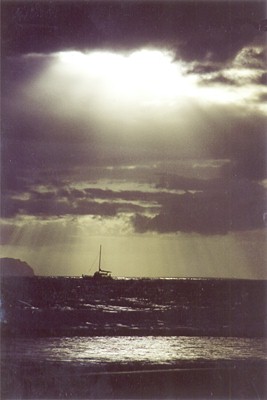 © lily H., Kekaha, HI