Last Kiss
April 26, 2016
It's like the last drip of water to lick your spine,
the last sip to hug my lips,
the last words to spit in my ears,
And it can seem like death,
That last kiss.
I forget how everything was broken before.
I dismiss any tears that did dance.
And I tell myself love was a wonderland,
up until that last kiss.
I tell myself yesterday I laughed so hard my eyes thought they were the sky and brought rain.
I tell myself that that morning I woke with a smile so big it couldn't fit on my face so I had to take some off and put it on my heart.
I tell myself that until my last kiss, I was painted in a color of love I used to not think existed.
I used to feel so pink. I walked down the sidewalk with my chin at a level that made it seem I was supposed to be drowning but told the water no. I used to feel so pink. From the roots of my heads fur to the a** of my feet I was so pink. A pink only lovers could even think to see and boy was I proud.
I used to talk so loud. Like I had a million voices. I would speak with a mouth so wide and a voice so pronounced, it may have seemed as if a fairy lived on my throat and I was trying to get her to move to someone's ears.
Up until that last kiss.
And until that last kiss, I was so in love. Don't let me forget how in love I was. But unfortunately the feeling being mutual isn't a requirement to have the feeling. Fairytales never did tell me that.
And I could say that I wish I had been warned but that may have spoiled the fun.
At least I seem to forget all the bad things that went on before our lips said hi for the last time.
At least I fool myself into believing there was nothing wrong with him, only me.
At least I put the relationship in such light as if it were the kind of perfect people put on display in their dining rooms and I hid myself behind laundry I should've done last month.
Even though the relationship is dead and I,
Am supposedly alive.
Up until that last kiss,
I had no clue how oblivious I was.
Up until that last kiss,
A reflection in the mirror was no more than just that.
Up until that last kiss,
I never would've thought to love myself.
It's like the first drop of a puddle,
The first breath of a child,
The first words tainting paper,
The first blink when you decide it's okay to wake up
And it can seem like a mountain,
That first step alone.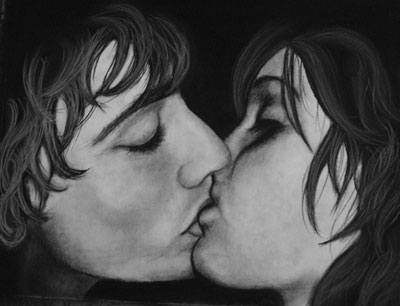 © Anna Y., St. Robert, MO