Ode to a Mud Puddle
MAG
March 24, 2016
The sweetness of slimy, the deepness of smooth,
the rippling reflections of a mirror-muddy you,
sweetly sucking at heels, playful nibbling at toes,
dabbling on fingers and under fingernails goes.
Wet handfuls of goosh dripping brown and cool,
earth-velvet skooshing in sparkle-sweet pools.
When leaves have all fallen, and grass is still dead,
the mud is alive, stirring in squish-hope puddle beds
in the springtime sun and the summer shade.
Splatters of sweet drying sweeter in the sun,
crackling and bright so the color won't run.
Starry-Night swirling on sidewalk and street,
rolling up pant legs – make room for the sweet!
Delicious wet paint to pastel streaks,
flaking bright brown where through fingers it leaked.
The sweetest texture known to man,
gritty and hopeful and smooth and tan
in springtime sun and the summer shade.
Checkerboard grit, still stripety sweet,
chocolate-crumb rich and precisely neat,
washing away when the rain comes around.
Thunder roll rattles and purges the ground,
no longer a canvas for letters and whorls.
It travels in rivulets, wiggles and curls
till it comes to the water, and makes a bed
beneath the streams and eddies and wet,
in the springtime sun and the summer shade.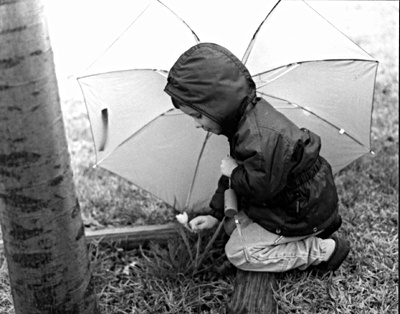 © Amanda M., Highland Village, TX