Known to some, Unknown to a Reflection of Himself.
March 21, 2016
Dad.
Dad...
I'm sad.
These people don't sympathize with my side.
In this special situation
There is so much they neglect to recognize.
Dad.
They were given a chance to love.
They were given the gift of time.
What once was theirs, wasn't able to be mine.
Dad.
They got to see you for years,
The sparkle of life in your eyes
The way your hair blew in the wind
The way you looked when you cried.
It's fourtunate to say the least
That I get to hear you sing
In the recordings you left behind
With the vibrations of your guitar strings.
Some pictures here and there,
They make up for less than half,
Of the many things I missed out on,
Like how it felt to hear you laugh.
Dad.
They neglect to realize a presence on their side,
The presence of time,
The presence of your life.
Dad.
I never got to know you,
I don't even have memories of you.
I wish they knew what it was like
To have a full life without you.
Dad.
They grieve for someone they were able to access,
And I grieve for someone who always was and will be absent.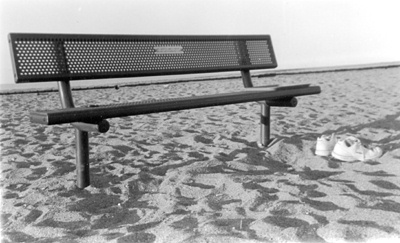 © Jenna H., Marblehead, MA