Songs for December: A Sestina
January 7, 2015
In my life you shall shed light
and by the end of this July
we shall fly and the air shall sing
and the clouds shall be painted silver
(for there has already been enough rain
in the cold forehead of the mountains)
When we'll reach higher than the mountain,
and sun shall try to blind us with light,
but as the tears have already been rains
and for the air shall smell of July
We'll return the heat with our wings now silver
Upon the clouds I hope we sing.
Of journeys long and bright we'll sing
Above the proud and towering mountains
(secretly wanting to be painted silver)
Our eyes shall steal the amber light
of pearly blossoms of mid-July
coloured with tears, remnants of the rain.
But will we ever miss the rain?
Will our voices be able to sing?
And when December dethrones July
Upon the base of the long dried mountain,
as we dance on the waves of light
will we even know our gold from silver?
And what of the time when our hair shines silver-
and the land cracks with songs for the rain,
the clouds will  make way for light
What if for pain our hearts will sing-
will faith alone move mountains,
allow our lives to stay in July?
So lately I've been stealing July
saving it in boxes of silver
where I've hidden the view of the mountain
(and also the dreaded pain of the rain)
Upon time's wrath I shall then sing
and Decembers will glow with our light.
In this light of fresh July,
I sing of you and waters silver
of rains as they fall upon the mountain.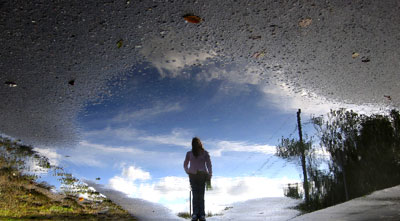 © Daniel H., Oak Bluffs, MA