INTROVERSION
August 12, 2014
I kiss this sadness
With a gentle goodbye.
Please leave,
I beg.
The unbearable discomfort
Of my own skin
Sends flames
Flaring down my spine.
My eyes are cracked, like windows,
As if glass has been broken,
The sign of an intruder.
I take a moment to glance at my reflection,
Hoping to find secrets and fragments of myself hidden
In the mess,
Only to find out that I am
Empty inside.
Whether parts of me were stolen
Or if I never had any substance at all,
I am hollow.
So come closer,
And tell me you're going to try to understand
And I'll cry
"I'm empty,"
And you'll think
That I just need to be tapped into
that I just need to be lit up
Like an unused lantern
Or an old candle.
But what I want is time and devotion,
Someone to share laughter with.
Someone who brings me warmth
In ways other than lighting a fire within me
That will burn out when the wind blows.
When I say I'm empty,
I'm telling you to
Share this emptiness
With me
And to make this open space
A home.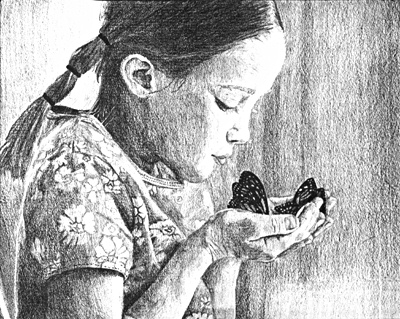 © Alina L., Holland Patent, NY