Losing Her (Drunk Driver's Casualty
June 16, 2014
We were walking down the street
The firefly philharmonic of lights enveloping us
The sidewalk was cracked in pieces so small
They could have been grains of sand.
The music was playing from your phone
And your hair was infinite.
Our lips became locked like our hands
Were for the last hour.

Car coming.

My hand running down your arm
Like it was smudging the dirt off the Mona Lisa

Headlights shaking.
Car coming.

We were so lost in the moment
That maps would have done us no good.
We did not want to be found
In that instant.

Car crossing line.
Headlights shaky.
He's definitely been drinking.

I'm kissing you hard, harder
Than I've ever kissed anyone before.
Why didn't we notice?

Heading right towards us.
No time to run anymore.
Car coming.

The ground falls away from us.
The hood, spinning us into somersaults,
The night, rolling, the fireflies floating away.
Gravity was tardy.
Offering us up like sacrificial hosts to the sky.
We were swimmers, breast stroking
Against the pull of the earth.

When we landed, the car kept driving.
I couldn't feel my legs.
Her hands were bleeding.
The same ones I was holding
My face was torn
And her shoes were gone.

Her phone still played
Though it landed ten feet from her;
It was not as breakable as we were.
We slipped in and out of consciousness
Like moving from room to room
In an abandoned house.
When she whispered,
"This is not the end. I am not
Finished with you yet."
And in those moments, I
Imagined the wedding we would never have,
The breakfasts, the left
Turn into our driveway,
Our unborn children crawling
Around our shoulders
And playing with our ears
And I watched it all fade away
Like any morning that would
Never come.
Our infinity was at an end
And I could feel her pulse
Rising to a crescendo that
Would lead the life shuffling
Two by two through the
Door of our perfect moment.

Before she went out for good,
I tried to tell her in those
Mere seconds, what would have
Taken years to show.
The street became our forever,
Because in moments, we would have none.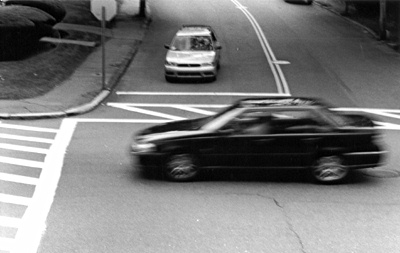 © Ed J., Marblehead, MA