Why Isn't Daddy Coming Home?
May 2, 2014
I didn't understand why my mommy was wearing black.
I couldn't wrap my head around why daddy wasn't coming back.
He told me he'd be there, as soon as his work was done,
He said he would hug me tight, because he would've won.
My daddy told me he'd come back, and daddy never lies.
I tried to smile as I wiped the tears from mommy's eyes.
Daddy is strong and tough, he'd never ever leave us,
he'd be back soon mommy, just wait for the green bus.
I looked out the window as Mommy's car drove by.
We saw an old church, the steeple high in the sky.
I watched people carry a box into a fancy building.
As they passed me, I read the dark and gothic guilding.
My daddy's name was engraved on the side,
I wondered what it held as they went inside.
Maybe daddy was home at last, waiting for me there.
I could see his eyes, crinkling at my surprised stare.
I rushed the doors, and looked around the hall.
I searched until I noticed a strangely familiar call.
Where is my daddy I asked my auntie G,
In the coffin sweetie, look and you'll see.
Why was daddy in the coffin? I wanted to know.
Why was he laying there, his skin white as snow?
Then I saw the roses and the sad note.
My heart fell and the voice in my throat.
My lip shuddered in grief as I ran out the room.
I didn't want to think about it, he'd gone to his doom.
I wandered through the hallways, wishing I could roam.
Now I knew the reason my Daddy had not come home.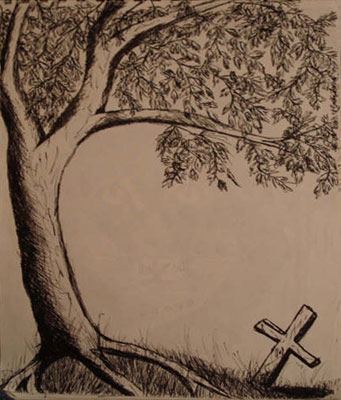 © Courtney K., Bethel Park, PA