Return Policy
MAG
November 15, 2008
With a sales receipt, a full refund of any emotional attachment in the original form of payment will be issued from any lover for the return of new or unused teddy bears, chocolates, flowers, bracelets, and company on cold January Friday nights at a moment's notice when no other plans could be had within (i) 14 days of gifting from a sweetheart or (ii) 14 days of deciding necklaces and perfume are not the intended gifts. A store credit for the original amount will be issued for (i) signs of affection given less than 7 days prior to the date of return, (ii) when a gift receipt is

Ignore my empty bitterness

presented within 60 days of purchase, (iii) knowledge of the curve of a shoulder blade after a midnight swim, or (iv) proof of attachment was originally conducted elsewhere. Opened big-ticket items may not be returned. They can only be exchanged for the same variety of sexual secret, blackmail photograph, or lovingly chewed-on pencil with attached green gift ribbon from the handle of the tea cup I bought you last spring. Too bad you can't return what matters. Too bad I can't take it back either. Too bad you lost your heart somewhere.
Policy on receipt may appear in two sections.

Ignore my empty bitterness.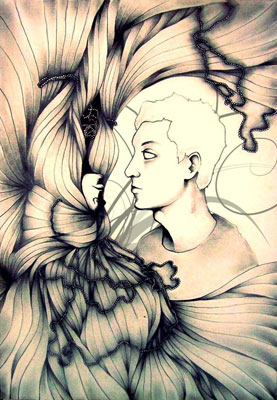 © Victor K., Las Vegas, NV