Insomnia
February 14, 2014
The silent ticking of a digital clock echoes in my ear
I see through the dark as everyone sleeps in it.
My ears hearing the sleep, a snoring, creaking sound,
And the silent ticking of a clock with no hands.
The time drags slowly as my mind draws a blank,
Watching the shadows engulf by bed.
The snoring stops and the silence is pounding,
Screaming into my ears, the sound of nothing.
My eyes beg for sleep, as does my mind,
But still I lay here, tossing and turning.
I'm neither cold, nor hot as I try to shut my eyes,
While shadows laugh and haunt me, dancing in the dark.
I cannot sleep through this noisy silence
That fills my empty mind.
I could check the glowing time, in false hopes of sleep,
Knowing knowledge won't make it happen faster,
As the hours drag by.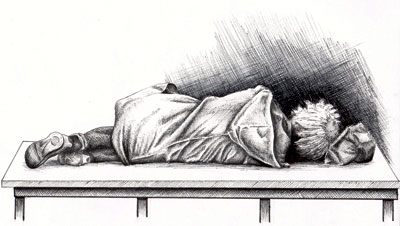 © Devin N., Sherrills Ford, NC