Body Fat is Not an Offering
November 15, 2013
I am a martyr,
Just as you were on your own
Execution day
When they first came with stones and sticks
And candle wicks
They burned you at the stake, not
A cross,
And no nails held your skin to the flames,
No,
Only you did that
Your body kindling the rage in their veins
That licked up your legs
And tickled your
Arms,
A mockery of how love warms

I am a martyr

But I know not of sacrifice,
And if you asked me what my crime was
I'd ask you to pay a
Blind ransom
There's no devotion in that, and I'm scared,
You can't compare
Martyrdom to anorexia nervosa; if you try
You won't find God
On the receiving end of that burnt offering, no,
I don't know my crime
But it'll show itself
In time,
And you're a martyr but I held the candle to
My own stake —
Everything, you see, was at stake

I am a martyr

But you won't find me among saints,
I'll be
Waiting with fire in my lungs and
Bruises
Everywhere
Where I imagined them stoning me and picking
My skin bare
And when I'm naked and skeletal in front of
The witness stand, in front
Of the mirror,
I know I'm not a martyr, no . . .

I am the worst kind of heretic.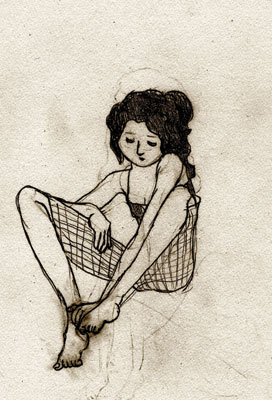 © Samantha W., Albany, NY