Morphed
MAG
October 18, 2013
I pitched a fit for an iPhone,
but when they first came out,
I wasn't too thrilled about them because
all I thought my future would ever be was
keypads and flip phones, because that's what I
fit into.

But then I fell into peer pressure, and after
that I slipped into a bucket of humanity that
painted history, and then I felt empty because
all I ever learned was how to be my surroundings.
I grew up with the concept that I couldn't be
a jagged edge on something smooth.

Sixth grade, I mastered holding
my breath, so the button on my
new pair of skinny jeans wouldn't
pop off. Later, I spent my time
at Walgreens, buying yo-yos, or
should I say popularity.

Seventh grade, I decorated my wrist
with I Heart Boobie bracelets.
I never even liked bracelets, but
I liked being liked.

Eighth grade, every girl was diving
off the deep end, so I jumped too, and
purposely drowned myself in the ocean.
It wasn't a beautiful ocean, it was a dumping
ground for emotional kids.
I inhaled the toxins of depression and it
polluted my mind.

I sank like the Titanic into sad music
and low self-esteem. I pushed away
all the lifeguards who were my friends
and family.
I lost everyone to be like everyone.
I thought I was making room for all these
things without losing myself.

But I became a really good artist, and
was able to mold myself into anyone
and anything except me.
I had amnesia when it came to myself.

My limbs weren't limbs, and my
bones weren't bones. They were
designer clothes and expensive shoes.
They were bad grades and racist jokes.
They were stupid mistakes and iPhones.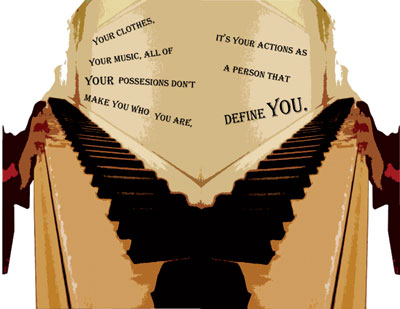 © Brad F., Stewartville, MN