moon flowers
September 28, 2013
I have a sharper edge
than that of blinding light.
I have been pricked
by the silvery thorns of despair
but have only bled light
I have known what it is like
to be both moon and raw light

but so afraid
So afraid am I to become 'Luna'
for fear of quickly becoming 'Lunnie Bird'
to classmates and 'true' friends
Yesterday,
I was a thousand mirrored selves
all with two black shaky tears



running
hiding determination with accepted lies
so complete in their blackness-
accepting anything, anything

but light
two thousand black tears


falling
in two mirrors held to face each other
yesterday, I was this
today, I AM LUZ!
but still . . .
wingless,

I fall into another mirrored corner
of this dream-
I want to be myself
noisily;
erotic,
like lightning jags and solar flares
but so afraid am I
that Luna will give birth to her own twin

whom only I know
is only a trick of the light
but still I hear the moonflowers
I feel their calls
like a painful scar
before rain.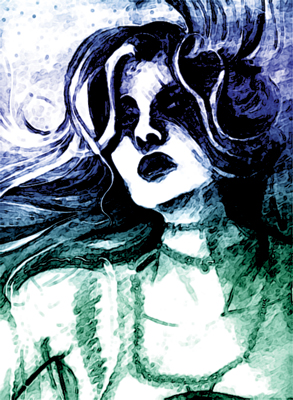 © Sindi J., Westminster, MD