The Art of Dance
July 28, 2013
"Whatever you do, do it well. Do it so well that when people see you do it, they will want to come back and see you do it again, and they will want to bring others and show them how well you do what you do." ~Walt Disney


To some, dance is just a means of exercise.

A way to get in their sixty minutes of physical activity for the day.


But I believe if you want to be a true dancer, it can't be just that to you.

You have to be in it, your heart has to be right there with it.


It's not about the moves and the choreography,

it's how you choose to do them, how much of yourself you put into those moves.


To us, to dancers, it's not just a sport.

It's a way to escape the world for a while,

express ourselves in a way that we can't in words.


That stage, or that studio floor, even the carpet in your house, is a canvas.

And that is how we dancers paint a picture, not just with one hand, but with our entire beings.


Dance isn't easy. It's not a 'practice once a week' kind of sport.

It's something that takes over our lives, it's in everything we do.

It takes dedication and poise, strength and hard work.

But dance also requires patience and grace.


There are no boundaries or internal walls in dance.

There is no ability to restrain yourself.

If you're dancing, you're everything is in it.

There is no holding back.


Dance is not for the weak-minded.

You have to be willing to push yourself that much further,

to reach a little farther than the time before,

to leap a little higher,

to turn a bit more cleaner than the previous one.



Dance is for the strong and willing.

When you perform, your heart is left out on that stage.

For a dancer, there is no more to give.

We work our bodies, our minds, and our emotions.

A true dancer doesn't feel at home until they're in the secluded walls of their studio.

A true dancer puts everything he or she has into their craft.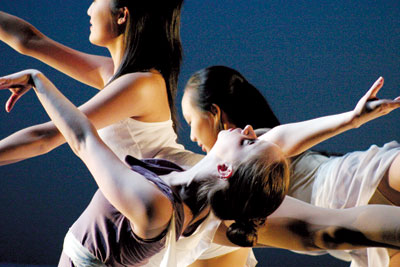 © Josiah T., Allen, TX