Star-Crossed
June 19, 2013
I met you
One December morning
The sky was gray
And the rain was pouring
But this day would be far from boring

Our eyes met
On that fateful day
And when they did
I couldn't turn away
So nervous, all I said was "hey"

Your eyes lit up,
An adorable smile
I'd try to impress you,
But all the while
You were seeing us walking down the aisle

So when it came:
The night of the dance
When you first asked me
To take your hand
I knew this could be my one chance

I remember your touch;
It felt like a serenade
Our hearts both burst
Like hand grenades
Is this a dream, or is it fate?

A soft silk dress
Colored baby blue
Things like these
Remind me of you
But these days, they haunt me true

For after that night
With trembling lips
You tried to say something
But you never did
Who knew it would've been our first kiss?

And then next week
One day, you disappeared
I searched for you everywhere
I searched far and near
Never thought I'd live without you here

You called that night
Around nine fifteen
My nightmare seemed over
I knew it could become a dream
When I saw your picture on the screen

You spoke first,
You called, "Hello?"
I asked, "Where'd you go?
I miss you so."
But there was something I didn't know:

Your flight was soaring
Two miles above
All of our dreams
Everything we loved
At first I thought I just wasn't good enough

But you had to tell me
Some withheld truth
It started with "I"
And it ended with "you"
Someone tell me this isn't true

My first love
Was flying today
On a one-way flight
To far-away
I'd give everything for you to stay

After everything
We did together
How could our bond
Ever be severed?
Seems nothing can last forever

Because times have changed
And you have, too
It's been a year
Since I've heard from you
Days go by with nothing I can do

So now I wait
Next to a silent phone
Waiting for your voice
When you hear my own
So I can know I'm not alone

But if your voice,
That bittersweet melody
Says, "Hey, you,
Come back to me."
I swear, I'll swim across the sea

I'll run across
The Midwest Plains
I'll run through snow,
Fire, ice, and rain
Just to be with you for a day

I imagine it now
Me reaching you
When I reach your home
Just past Malibu
The sweetest case of deja-vu

A baby blue dress
And jet-black hair
The feeling of joy
Just fills the air
Like fulfillment of our prayers

Because for you, I ran
Three thousand miles
Through the Everglades
Through every trial
Just to see one little smile

And now it's come
The time is true
To say four words
That I forgot to;

"Alanna, I love you."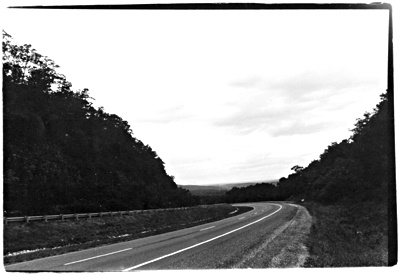 © Courtney R., Great Falls, VA