Wish to live this Dream Forever..
June 12, 2013
I still remember that day,
We had a sweet walk down through the woods,
I watched our hands, intertwined.
Swinging to the rhythm of some unsung melody.
Apart from the sound of your soft footsteps
And my gentle footsteps, it was all quiet.
Deafening quiet.
Streaks of sunlight caressed your face,
Your hairs caught the light at various, strange angles.
We were headed in some unknown direction.
In those strange dense woods, full of unknown creatures and sounds,
I should have been scared, scared to death. But I wasn't.
Because I was with you. That was enough.
You brushed my cheek with the back of your hand, leaned in
And murmured, "Smile little mermaid, and everything will be fine,"
I blushed and you chuckled.
I remember all of the little gestures of that day- yours and mine.
I still remember that day,
When I had this dream.
And I still wish to live this dream, forever...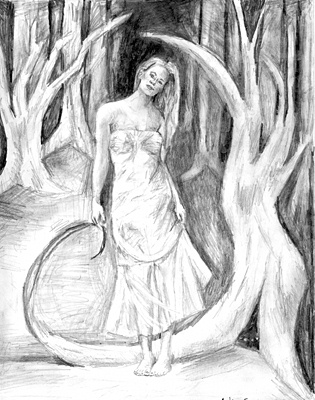 © Andrea F., Philadelphia, PA