Our Love is a White Slide
June 8, 2013
On the day I signed the final divorce papers,

All I could think to say was, "We should have kept the receipt."

Nothing in our family spelled out regret

The same way how pointing to the white slide in the backyard did.

We bought it two months before we got married,

Thinking of all the promise it offered for our future kids and birthday parties

And those nights where we pretended that we had never grown up.

We used it all summer long after the next-day-installation deal

Then, took turns sliding our new born daughter down the summer after that.

There was a time when all the kids in the neighborhood would come

Over our backyard to play on it and the slide made summer nights seem endless.

So, how did we let so much time go by where it rot from lack of use?

The white slowly turned into a moldy brownish green,

But all we did was watch as time disintegrated before our eyes.

Every fight we had over the next few years came back to that slide.

I would say "Why can't you just go out and clean the damn slide already?"

And you would say "I'm too tired."

"What if people come over?"

The empty look in your eyes remind me that no one comes over anymore.

So, I would ask "Why don't we invite people anymore?"

Or "Why don't we use it one of these nights?" Or "Why hasn't Anna used it in a while?"

But, what I really wanted to ask was "Why aren't things the way how they used to be?"

Instead, we let silence run through the house and watched what

Happens when you leave things untouched.

The slide began to collapse in on itself and new bugs found life

In-between its cracks. Meanwhile, you started leaving more nights

And I stopped asking where you were. No one ever said

"I love you" or "I need you" or "Something is wrong."

Instead, we let it all fall apart in front of our eyes because we

Didn't think that love came with a warranty or that we would ever

Trade it back.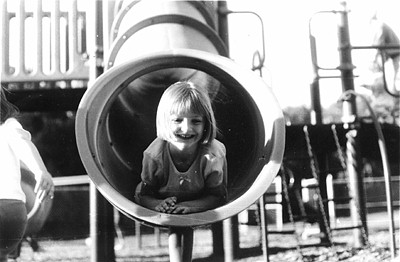 © Lara C., Norwalk, CT