The Pain of Living
June 1, 2013
The storm clouds gather as we watch, broken,
on the ground.
My bones are crushed and my blood lays
Pooled around me,
Soaking the earth and reflecting the fire
In the sky.
Why does it hurt so much to lie here,
When I
Know it's a sweet release, a beckoning escape…
…could it be…?
No.
It's too late not to be consumed in the darkness,
Too far gone to wait for the sun
To shine
Through the clouds,
To run
From the lightning flashing all around.
It chills me to the bone,
It fills my ears:
This method I've chosen for destruction
Is one of the utmost
Annihilation,
Completely bent on keeping me pinned here,
Helpless.
I look to you — I can't help it — but you're already
Dead.
How did they get to you?
Must I be the only one left to face these storms?
For if I will soon be destroyed,
Let it come,
And not taunt me like this.
Yet could it be…..
….it's not the darkness pinning me,
keeping me,
torturing me,
but the light?
That maybe this pain is the price I pay
To feel the pain
Of being alive?
And just maybe —
Am I crazy from this pain-induced fever?
Maybe
That's the way it has to be to ever feel the warmth
Of the dawning sun?
So I lay here and I bleed, my eyes watching the sky
To one day
Get back on my feet.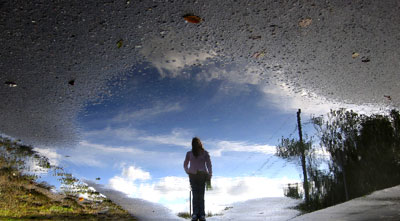 © Daniel H., Oak Bluffs, MA