Gizmo
April 7, 2013
Making eye contact with you is simply eerie,
you look into the depth of my soul and there is no place for me to hide.
The glow of your electric green eyes lights up my dreary life.
So confident in yourself never needing to wear a disguise.
You are so inscrutable it's inapprehensible.
The regality of your presence is engulfed with sovereignty.
You are even more wise than those said to have a 'gifted' mind.
You get all that you desire due to your demanding choir.
So clairvoyant and all I can do is envy that glorious side of you.
The agility you have is almost greater than the loyalty you offer me.
Mysterious and cunning as you creep through the night.
Your charm is so controversial if asked of a feline and canine lover,
on the contrary, you know I'd never question your worth.
Peculiarity is spread throughout your tiger-like body.
The touch of your fur is so angelic and mellifluous
the sound of your purr sings me into my slumber.
The adulation I give you is possibly more than you deserve,
but the curve of your tail swinging back and forth couldn't disagree more.
Even past your nine lives I will always
love my little feline.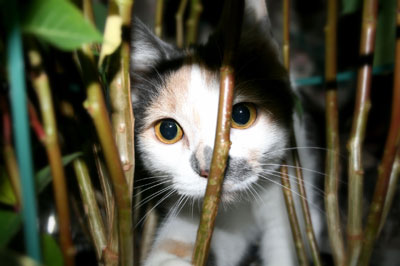 © Leah B., Kokomo, IN