Mad World
April 4, 2013
The familiar, worn out
faces, surrounding.
There was no escape.
My face remained blank, emotionless
yet on the inside, I was
screaming. Laughter and voices rang around me but even my
sight became a blur; I frowned slightly.
My vision was dancing in circles; it was a mad,
mad world. I closed my eyes, my emotionless
state consuming me once again as I lifted my
eyelids without hesitance.
All was dark. The blurs, the dancing
…all gone. Before I could blink
the pressure of reverie strongly pounded my
mind, bringing me to my knees. I gasped, my hands
reaching up to grab the sides of my head. I made
the small endeavor to open my mouth, but my lips
did not part.
That year. So lost…still so lost…in my
mad world.
His eyes, bemused, his stare condescending. The smile
was still however on his face; it never left.
A doll, a hostage to the world; to all around her.
There is strength; it is here, underneath your
skin, beneath your flesh. Find it…find it... I pleadingly
grasped the floor with my fingertips, hands cold and trembling.
Then it stopped. It all stopped, ceased. Darkness still enveloped
my vision as I once again opened my eyes; I twisted my
head around, hearing the simple sounds of an animal not far away.
I nearly shrieked, raising my animal tendons, as I
realized it was me
panting, gasping for air.
An emotion; fear
the first in so long. I fell to the ground
leaning my cold cheek against the even colder concrete.
It's back, everything is back; in this mad
mad world.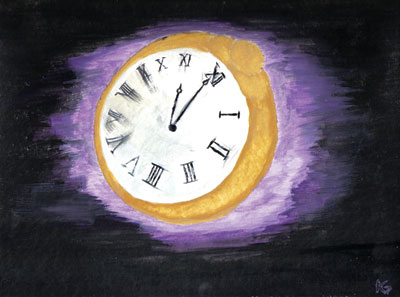 © Kyle G., Clarksville, TN