Raining Today
March 28, 2013
The sky is an immaculate handiwork 
Of an artist's imagination 
Everyday is his masterpiece
The raindrops 
So big and crystal-like  
In front of the golden light 
Which merges with light blue 
Thumps on the ground like hailstorms.
Shadows are fading away 
Like our dark sides
And dry leaves are involved 
In a never ending race. 
The breeze blows through trees 
And thus fall the weakest links,
You brush your hair with a casual hand 
And wonder if the wind 
Makes the trees tingle too.
Some eyes are filled with glow,
And others just frown,
The smell of wet mud 
Fills up you nostrils 
Your mind is on a short break 
Even as you take shelter 
Your heart still dances 
On the music of raindrops, 
Pitter-patter-pat.
Even though translucent grey
Covers up the bright golden 
Gloom refuses to set 
Because it's just another rainy day
Today, you're not afraid.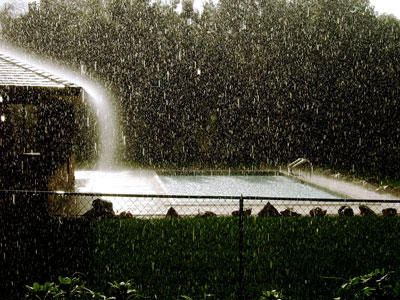 © Chelsea C., Auburndale, FL