A Social Worker's Client
March 20, 2013
Tremors shook through her hands as she pressed herself onto a chair
and spoke about a plan that could only work
in fantasy. For her, it was reality, even if reality was looking through cracked
rose-colored glasses into a world that seemed
to adore her then trample
her into sweet submission. All she could think about was needing
the desperate love from
the person who would never betray
her like Ray did, like Ava did,
like no, no, no,
she couldn't utter these words (but her brain played them like a broken record)
...like mom did.
As she stubbornly demanded back what was hers,
broken dreams played through the empty flower pot called
her head as the words
no, can't, won't and shouldn't
enveloped and consumed her brain and put her on the edge
of...no, no, no,no
She would not! she could not! The woman in front of her
could only do what she wanted.
No, can't, won't and shouldn't brought a storm that seemed seep
out of the tremors of her hand
as her heart beat quicker, her head
pounded ferociously and her mind
delved into insanity,
The cant's, the wont's ,the no's, transformed
her into a raging fire as she banged
her hands on the desk, made empty
threats into the face of impossibility and
finally cowered at the emotion she
knew all too well,
anger.
The woman's head turned into Ray, Ava and
mom. The old submission
returned and set the dust on her deteriorating
soul.
In a flash,
she walked out of the room
with the blistering heat beating
her head and her eyes turned toward a blinding
sun while can't, won't and shouldn't bounced in her ear drums.
No, no, no played like a beautiful lullaby while she limped home.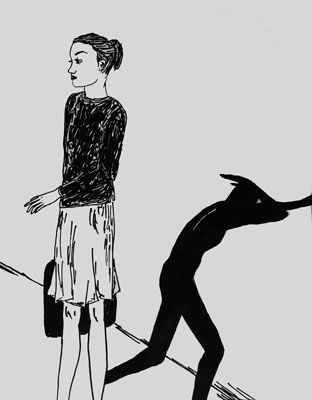 © Natalie D., Ames, IA