For Mendeleev
July 28, 2012
They stand, silent in salute,
Abridgements printed on their chests like emblems on a flag,
Magic numbers hugging their meager letters.
They are eighteen to a row, seven to a column—
And then the others, the removed.

At the top, colored mists, greens and blues, the semblance
Of life's sustenance; life's assassin.
Shiny pigments, emanating from the middle, reflect the spark
Of man's sweet mastery.

On thrones, two tower above,
The first set apart, the other only one of many.


Sketched out on paper, ruler-straight lines,
Our food, our shelter, our love—
The components of our very cells lie there,
Our everything, anyone's anything.

All of our history can be told by these small boxes:
Imagine them scattering from their neat rows.
They become a smoke-stack, or the money changing hands
On a wooden dock.
Or perhaps, instead, they are the pages of Diderot and Voltaire,
The substances held in flasks by bearded scientists in high-ceilinged university laboratories.

But then they become tear-gas, heavy guns, artillery, shells,
A fungus-shaped blast of smoke.
They are the death in our poisons, the water that drowns us.
They are the thick gas—hydrocarbons gone wrong, they corrupt.
They are in us;
They consume us
For, simply put,
They are us.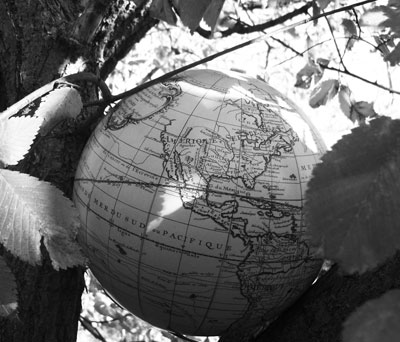 © Ella H., La Vista, NE