Inject Me Sweetly
MAG
June 13, 2012
I lie awake every night,
scared for his return.
In my mind, I picture him
and his evil smile.
There's much more than what shows with his fangs.
The way he stands over me,
breathing me in like a drug,
like poison,
black clothing,
black hair,
pale skin.
The thought of him sends shivers through my veins.

The clock chimes,
pain strains with each tick,
and terror is released with each tock.
My heart pounds uncontrollably,
and I jump at every creak of the night.

And finally, he arrives
through the chamber's cemetery gates,
through the chamber doors,
into the room we made,
to finish his sickening schemes.
Scaring everything in his path,
a monster that scares away the devil,
a monster
lying next to me.
People say he's so evil,
you could put your hand over his chest where
his heart should beat
and nothing would happen.
Nothing's there.
Not even a little care.

But I don't seem to see it when I look into those eyes.
The way his hands feel on me
and the reflection of the moon on his back –
it's all beautiful.
I don't see him as a monster anymore.
I see him as a fallen angel,
a beauty behind an evil disguise.
I fell in love with his voice,
the accent that whispers my name in the dark,
a heart that brightens through his saddened eyes
as he's consuming me,
as I'm consuming him.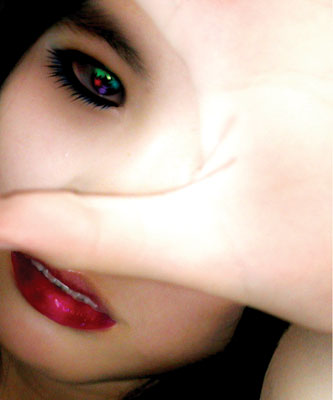 © Victoria W., Arcadia, CA