Forever. Add in a "N" & It's Never.
June 7, 2012
I'm at the stage,
where I choke on my words when I speak of you.
It's that comfortable numbness,
I would be used to it by now of course.
There's really no tears left.
It's just that choking feeling.
The restriction from you,
is like;
a druggie without a drug.
I'm so addicted to you.
It's crazy.
It's stupid.
It's love.
People know.
They can TELL.
The difference between like and love.
My friends,
they know how much you care about me.
Of course,
this fight would be MY fault again.
To have your heart all warmed up again,
just to break it.
I dont even know what I'm feeling.
You promised me you weren't leaving.
Your keeping your promises.
But how?
HOW is it possible?
We've got people after us now.
Watching us even.
These words will be here to remind me,
of the tears I cried so harshly.
The screams I cried so loudly.
Like gripping to my bed,
was like gripping to you.
To make you stay.
Those warm, loving feelings.
Went down the drain.
I. Love. You.
Screaming wont bring you back.
Tears, blood, love.
Nothing can bring you back.
What we used to have is gone.
We are back to day one.
Earning the trust we'll never get.
True lovers.
You say they go through these types of things.
How they manage to do so....
I have no clue.
I dont want you to hurt.
I dont want you to cry.
Dont think youve wasted your love.
Dont believe youve wasted your words.
They meant the absolute W O R L D to me.
Nothing more, nothing less.
I simply cant say goodbye.
I cant let go.
I wont say goodbye.
I wont let go.
I will not move on.
Until I get my last kiss.
My last goodbye,
from you.
Until you tell me,
we have nothing left.
Until you say I shouldnt wait anymore.
Time escapes us,
So damn quickly.
Time can leave us,
just like that.
But baby dont cry.
Dont hurt.
Leave that to me.
If I did it,
I deserve it.
So let me suffer.
Seeing you is just enough,
to make me break down.
To crush me.
To kill me.
Slowl from the inside,
leading to the out.
Your scent I'll inhale so deeply.
Your kiss I'll savor so sweetly,
Your eyes and smile I'll observe so thoroughly.
You'll never know when we see each other last.
This could be it.
This could be the end.
If this is it,
it sure as hell is ugly.
Makes me ugly.
Life's momentarily destroyed.
Decsions... decsions... decsions.
They get the best of us.
Bring out the worst in us.
It's always one night,
falling asleep with a smile.
Going to sleep the next in tears.
I dont know who I'll ever be,
or whar I'll make of myself.
But people like you,
only you.
Theres nobody like you.
Nobody who will ever be,
JUST like you.
Im just too attatched.
Nothing can get me away.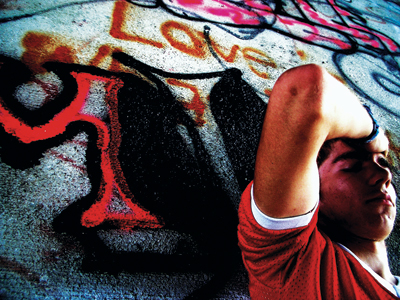 © Sindha A., Champaign, IL