Solitude
May 20, 2012
The walls seem to close in,
Sending waves of claustrophobia through me,
Tumbling over me
Like the foamy wrath of the sea,
Lights as bright as the flaming sun
Strike and blind me,
Making the walls tower over me,
As I shrink into myself,
Fighting wave after wave
Of shuddering darkness
That threaten to overwhelm my dizzy mind,
And lure me into
The ebony grasp of sleep,
That beckons so enticingly.

Voices fade,
And become no more
Than a tinny buzzing in the background,
As the beating of my heart
Thuds in my ears,
Until it feels as if
A hammer is pounding
The steady beat onto my head.

The floor rushes up,
As if to greet me,
And seems to be spinning wildly.
My eyes are filled
With a twirling kaleidoscope
Of walls, ceiling, and floor,
As I dizzily try to determine
Which is which.

My knees quiver and quake,
Like a wobbly jello,
As I totter on the brink of a dark crater
That seems never-ending.
I brace myself against the bathroom stall,
And weep trailing tears
Of shame and frustration
Into the comforting coolness of silent metal,
Accepting its cool embrace,
Until I am once more ready to face the world
And jump back
Into the harsh shades of reality.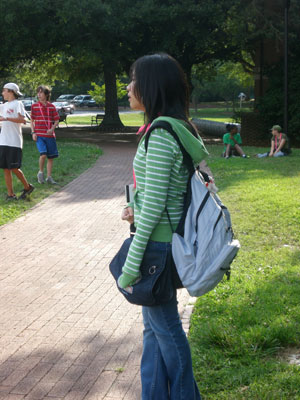 © Lucienne B., Parkland, FL