Growth and Burgeoning: For Spring and Myself
March 18, 2012
These last few unexpectedly mild months
were acquiesced to their conclusion,
and with having ideal air on my skin
I am quick to believe it's an illusion
while fearing my commonly credulous ways.

Pennsylvania trees were reticent
all throughout the wounding winter,
but the ardor of this atmosphere
was pervasive to their sleep;

and as exhausted as their branches were
from being shook from their dreams,
they agreed to capitulate with the sun
to dismiss the fetters from the frost.

The start of salient sprouts put a period
in my sentence of surfeited cynicism.
Nothing, not anything in this world,
could compare to the beauty of spring's
burgeoning blossoms- not just bursting
with prolific petals, but burning the
umbrage that came with lack of light.

This annual blooming, as tautological to
the earth it may be, is a necessary
reiteration for a lugubrious being like me.

My stability relies on the mental catharsis
that occurs alongside this imperative
seasonal change, and is undeniably
intrinsic when watching someone-
as anxious as I-
to slip into contented solipsism.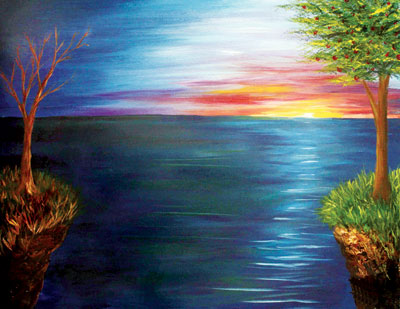 © Ariel G., Moses Lake, WA