I am the Garden
January 7, 2012
An untrimmed garden, soul soiled by hanging leaves, dead petals and twisted gray grass.
Weeds biting into my flaws to keep the scars on my soul, and trap me in shadow.

The call of crows nesting in thorned brambles, nettles of despair hooked into their aching wings.
Such creatures oft lay silent; terror tying their tiny maws shut, and neglect begging their strife to fester.

An untrimmed garden, the storm cackling high above— growing louder, a shriek refusing to pass.
Oozing, black sludge— pained rain feeding the unwelcome, spreading ireful ivy and malicious mallow.

Seeds've long been planted, specks of beauty lost to the depths with a hopeless longing to rise like kings.
Like a smiling torch, you've begun to burn the hanging leaves, bringing to those kernels a taste of ardor.

The filthy muck dripping from the raging tempest turned glimmering pure, cleansing the morass.
And despite uneven ground, your golden rays pierce the stubborn surface and force my heart to glow.

A passion to rip out weeds and fill wounds, bask in your love and turn dying crows into grinning starlings.
Paper-thin roots sliding from the seeds, cool stems of lush verdure spilling leaves of lilac luster.

An untrimmed garden, soil soon swimming with the sweet fragrance of nectar and sprightly green grass.
Mind afire with color and dancing blossoms—filled with timid tulip, wriggling rose and alluring aster.

And to silently lay with you, staring at the now-clear sky without a whisper of doubt,
is the wondrous dream I can't do without.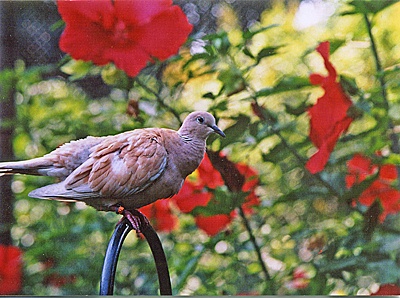 © Charlotte H, New York, NY