Breathe
November 11, 2011
I pursue a fool's mission,
Glancing in mirrors, a narrow-minded perception.
Faking my passions and deceiving myself,

To be an envoy of the health god I worship.

I forgot You and left my friends
On the periphery of my intention.
My heart recognizes the ache but denies the cause.
At meals I sit isolated, with austere ideals on my plate.

The gloom obscures my reason.
I exist in a dark world in January,
And when the sun finally comes, it's too late.
My only taste of life is choked down like a pill.

I'm breathless from trying so hard, and impatient,
Waiting for something new.
I need something better to fill my lungs.
I stretch up my hand, trying to surface above the despair.

Suddenly, I'm rescued, new—

You rescue me—
And each breath is precious.
The May rains wash my soul, invigorating,
And promise peace.

Each day my eyes widen more at new wonders.
I sense the Earth awakening, and the
Verdant air hums with life,
And wraps a fresh breeze around me like hope.

Soon, the summer sun stretches out the days,
And makes the air heavy and my breath labored.
Moving on is such hard work; I taste the salty sweat—
But I prefer clarity to dullness, even in pain.

Autumn bonfires fill my throat with burning smoke.
I feel the heat building up, and the pressure,
But I find strength, and I sing,
As my heart responds to Your call.

I revel in the glory of Your creation:
Bursting with color, November's dying leaves flutter.
Chill air and the daylight fleeting
Accentuate the season's fragrant spice and steam.

You alone can satisfy my deepest needs,
Assure my soul, soothe,
And smooth my raggedness.
How could I have forgotten?

Seasons change, but every night
I breathe in, out, enveloped in the scent of clean cotton
And sheets: my refuge from the world, and in You my weary soul
Rests.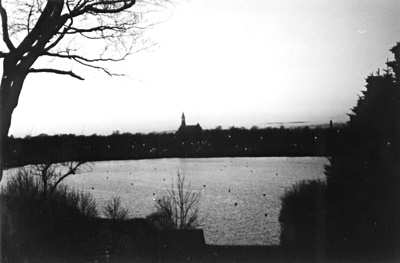 © Julie P., Marblehead, MA