There Is A World Beneath Your Wings
MAG
October 1, 2011
There is a world beneath your wing
I am tucked under a fan of feathers.
You are my red-breasted bird, a tremulous heartbeat under my hands,
Infinite, hard, onyx eyes whispering of other, older worlds.
I rest in your down, close to your chest,
and hear the uttering of a song deep between your ribs.
You sing to the setting sun dancing off the barley shoots
And to the pock-marked man of the moon.
But in the morning, my bird, I feel your wing lift and tense.
In a startling flutter you are gone, leaving a single quill behind, but not a single tear
Streaks my face in the light of this orange morning. I watch and understand, my bird.
I remember the smell of black, fertile soil
The crunching footsteps of a lonely man gathering stargazer lilies among the grass.
"Bear it and be free," he whispered and waved slowly
To a silhouette of you defying the wind between two golden horizons.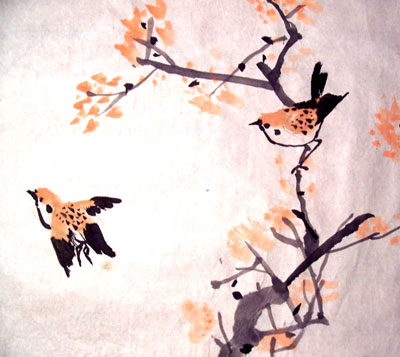 © Xiao H., Naperville, IL