Costume
July 20, 2011
Lately I've been thinking about last Halloween,
You, grinning like a jack-o'-lantern at a party full of people who didn't know me,
Their eyes appraising our lack of mask or makeup,
When, for no reason at all, you reached over and took my hand.

Our adolescent world is laden with tradition,
And that one, that minor entwining of flesh,
Was forbidden between us.

There among girls in shorter skirts and lovelier bodies,
Their faces covered with confusion, criticism, or caked foundation,
All of them caught on the vertices of your diamond cheekbones;

You were the most beautiful boy in that room,
And your hands claimed
Me.

Shall I now call you master?
Shall I call myself slave?

Because like a great composer you've made this your symphony,
Your words, the mallet,
My heartbeat, your drum,
My whispers, the echo,
Of heartstrings you strum.

And like some man-child mad scientist you combine the two of us like you're Mentos and I'm

Diet Coke and you'd like nothing better than to stand back and watch the explosion as

my blood begins to race through fizzing veins.

And isn't it funny how you alone understand how fearless I wish to be, and that you are one

talented mirror of a man who can show me my own reflection as I bounce off the glass

surface of your mind?

And speaking of your mind, I don't understand it,
I, the constant over analyzer,
I, with the brain like a library,
I can't understand one single thing you do.

Every touch, every word adds another layer to the riddle,
Maybe I've spent too much time searching for an answer,
Because I started on that first night,
Last Halloween,
When my hand melted beneath your fingers.

And I think
Maybe that
Was your costume.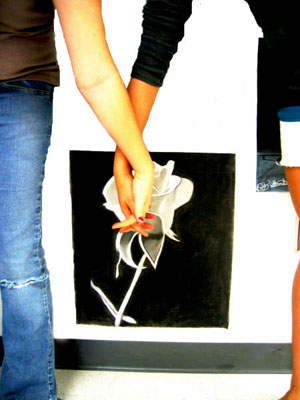 © Josie G., Wilmot, SD