Daddy's little Iggy girl
May 3, 2011
Daddy's little girl..
So wonderful,Smart,and pretty.
I wish I was that person...that little daddy's girl.
Daddy loves me but he loves my brothers more
I ask one thing...but he puts me on iggy
Will I ever be good for once?
Or will I be daddy's little iggy girl?
The days go on and I slump away from that old green house as it was time for school.
I look back to that green house and see my brothers get a goodbye hug...kiss...
I got nothing...
is it because I am 17.. and they are 11 and 8...
I tell myself one more year then I will be gone
I don't wanna go as I am scared … alone and even dangerous to even now.
Kids run the other way yelling "Monster run away!"
I hang my head and keep walking to that bus stop filled with kids of all race.
They chuckle and laugh then the yellow bus pulls in
I enter that loud place and take a seat up front
you can hear the yelling,Name calling and even then jokes.
I don't like this place it is evil and dark.
I blast my music in my ears and look out the window
when the school comes to view I start to sigh
I knew what was in there and I didn't like it.
The yellow bus pulled in and I slumped out of it.
Today was the day I was not going to go in that school of hate.
I turned and slid away from the school of hate.
I ran most of the way with out thinking
almost hit by two cars that where red.
Time goes by and I pulled out my cell phone
it read 8:05 A.M
I forced my legs to take another step knowing that green house was to steps away
I took in a breath then shyly walked to it,
I opened that door wide and hurried in
I sneaked to my room and locked myself in
I heard them yelling and fighting
I knew I was daddy's little Iggy girl
I came out to stop the fighting and all they did was yell at me for not being at the school of hate.
I stomped off.
My father came and took my hands and smiled
he said something
Daddy's little bad girl
I smiled then skipped to my room closing the door behind me.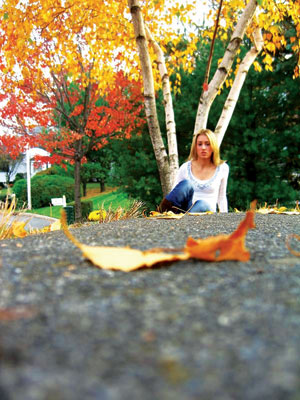 © Stephanie F., Garnerville, NY