Perfection.
April 5, 2011
You think that you're not worth it, but trust me you are.
Sometimes you feel you can't go very far.
But sometimes we all feel the same.
We feel as if we are to blame,
That we aren't worth anything
Any time, anyone, but we need to grow wings.
You need to be yourself, you need to be you.
You've heard it a million times, but you know it's true.
You look at yourself in the mirror, sad and ashamed.
You hate your hair, your skin and your name.
You don't like your looks, your face or your smile.
But just stop and stare for a while.
Think of the girl on the inside and out--
Stand there and smile, don't start to pout.
You might look at that girl, the cheerleader, the star.
She's the one with the boyfriends, the friends, and the car.
She makes you feel worthless, that you don't matter at all.
You're "fat"; you're "gross" and not at all tall.
But what you might not know, that one "special" girl,
Goes home to her room, and looks at her curls.
She cries and she cries, she's not special at all.
She is too skinny, too clean, and way too tall.
She ran out of money, for the gas for her car,
She fights with her boyfriend, and the fight went too far,
They broke up just a minute ago, and her friends won't call.
They laugh when she makes a bad grade, or trips and falls.
She goes to school, with a sad heart, and starts to stare.
She looks at you, with your friends, sitting there.
She wishes she were you, and easy life, a flawless face.
She wishes she had your friends, but that isn't the case.
She is scared to talk to you, scared of what you'll say,
When the "perfect" cheerleader comes your way,
Asking if she could sit with you, all alone and shy,
She's scared you're going to have to ask why.
She doesn't want to tell you, she's embarrassed, you see,
She doesn't want you to find out how imperfect she can be.
She passes you by, sadness in her eyes,
She thinks she's not worth it, but trust me, she is.
That girl, right there, is going places.
So when you go home, look in the mirror,
And think about the beautiful girl who is standing there.
She's you; it's true--it's hard to believe--
That a girl that perfect can be achieved.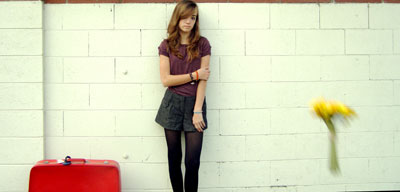 © Austin K., Studio City, CA