A Kiss of the Two-Timing Soul
October 15, 2010
I my lips will touch his someday.
My lips are calling the soft breath of my love to him each second.
At the football game, he put his arm around me. I seem to be gushing at the seams: stay cool.
He pulls me to go underneath the bleachers: this is my chance.
He leans in, like a branch on a tree rustling the wind.
I slightly relax my lips as we meet for the first time in an state of nirvana.
His soft, luscious lips make me melt, my insides are doing 360's.
I'm so mushed from my head to my toes.
But, he pulls away and the look in his eyes say that he has to go.
Am I crushed? Am I lovestruck? That feeling doesn't go away until Monday morning...
Then, I see him with his butt of a girlfriend. They're back together AGAIN?
But what about the football game and the kiss?
He sees me, then looks down; he knows I'm hurt. He can't patch me up like a balloon.
All day, he looks like he's regretting everything on Friday, but his lips seem to fade away in the realm of carelessness: he desn't care about my heart...
My lips are tired of being stabbed by unchanging fools.
But someday, my lips will touch a loving guy forever...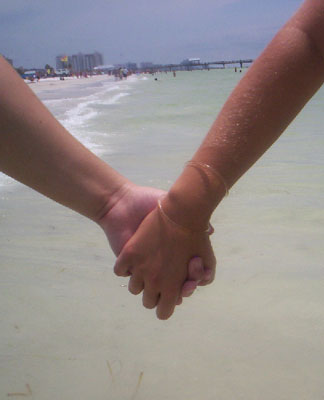 © Belinda H., Palm Harbor, FL