The Puppet
May 12, 2010
Legs and arms swing at your side
Dangling; unused, without a purpose.
The dance has ended, your Maker is finished:
Done, He hangs you up without a thought
As to your feelings; He doesn't care
If you still want to dance.
He is finished, it's all that matters.
Porcelain eyes beading glassy tears
But no one sees.
You cry out for music, for someone to pick
You up and dance you about: use you.
But no sound escapes. Your Master does not hear,
Does not care.
Like a puppet on a string, He controls you.
Painted you these macabre colors,
Dressed you in morbid silks; false tears painted
On your frozen visage.
Frozen, suspended in time; you wait while
Lights dim and your Master
Leaves you in darkness, not caring
If you're afraid. Door locks you
In, no sounds are left. Sweet melancholy
Music fills your head from the night's
Performance. Claps and cheers
Ring and flowers strewn across a stage.
But not for you. They are gathered and
Discarded, for they mean nothing to your
Master.
Like a puppet on a string, He controls
You. Tells you when to
Sing,
Or when to
Dance,
Or when to
Cry.
And now, He's hung you up to
Dry.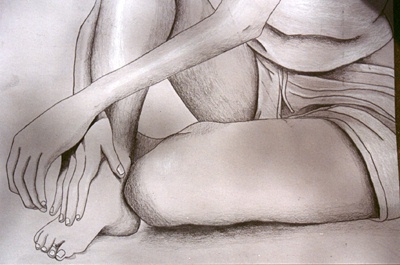 © Omar M., Phildelphia, PA